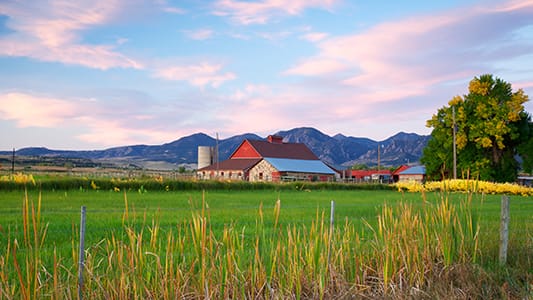 Aurora, just east of Denver, is Colorado's third-largest city. Stanley Marketplace — a food-centric community market equipped to accommodate more than 50 independently owned Colorado businesses — recently opened in Aurora's historic 1954 Stanley Aviation hangar.
Locals and visitors gather at the space to shop for artisan goods; take yoga and fitness classes; sip craft beverages at tasting rooms and coffee shops; and dine at favorite eateries like Denver Biscuit Company, Rosenbergs Bagels & Deli, and Sweet Cow.
Aurora developed as a military town, with the construction of the Fitzsimons Army Hospital and the later additions of Buckley and Lowry airfields. Today, this city leads the nation in redevelopment, with the creation of new housing and recreational and technical-business plazas in and around the former airfields.
Aurora is home to six public golf courses, with a variety of layouts to choose from. A thriving arts scene, including the Aurora Symphony Orchestra and Fox Arts Center, complement the city's vast array of ethnic restaurants and markets. The area also features multiple public reservoirs as well as a number of parks and open spaces. Try stand-up paddleboarding at Cherry Creek State Park, arrange a scenic horseback ride in the area with 12 Mile Stables, or sample some innovative brews at Dry Dock Brewing Company and Launch Pad Brewery.
Aurora is also home to Southlands, where you'll find a treasure trove of shops, restaurants, and a dine-in movie theater. They also host scores of fun events throughout the year. Look for farmers' markets, concerts, and outdoor movies in summer, while winter brings ice skating on an outdoor pond among other excitement.
The city is also the location of the Colorado Freedom Memorial, which honors the more than 6,000 Colorado veterans who have died or are missing in action while serving in the armed services. The memorial is constructed of glass panels that reflect Colorado's beautiful scenery while representing all branches of the military in all wars.
Aurora is conveniently close to some of east Denver's top attractions, including the Denver Zoo and the Museum of Nature & Science. At just 15 minutes away, Aurora is also conveniently close to the Denver International Airport.
Explore Aurora Schools

Sorry we are experiencing system issues. Please try again.